Celebrating a Birthday during Lockdown!
Andy Hall / Published: Apr-15-2020
Had a big party planned, looking to celebrate with friends and family or just a little birthday tea with those in your household? With the essential methods that are in place to attempt to prevent the spread of Covid-19, the methods of celebrating that special day have been hampered..
Here at Elevation Balloons we are taking great comfort in knowing that we are able to provide that special gift of an Inflated Helium Balloon to arrive on that special day. We are taking great care to protect our staff and customers, using DPD to collect and deliver orders on a next day service. However, sadly our lovely local customers are not able to pop into our new shop for collection or just another one of those lovely chats about the weather and the amazing world around us.
Whilst many birthdays will take place during lockdown some are really milestones in life. We have seen inflated balloon orders for such important milestones. Whether you're turning 21, 30, 40 or even 100 (we have seen every milestone possible this week). It really has been fascinating to read the messages of love, hope and celebration on our personalised products over the past few weeks. "Happy 21st to our darling Granddaughter from Gramps and Grandma" bought a tear to our eye. Such as special milestone birthday, normally shared widely with a large party for friends and family, yet those closest unable to attend and give a Birthday Hug. Of course, that milestone Birthday may well be celebrated at a later date, but it just wont be the same.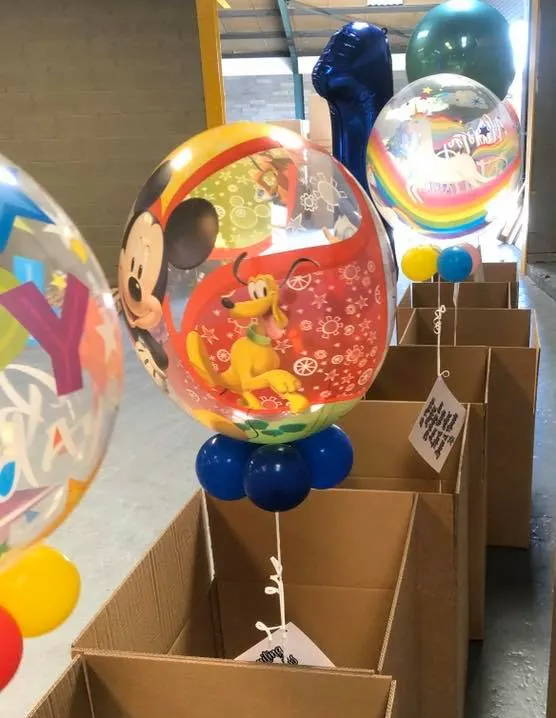 "If you have something to say, you can normally say it with a balloon!"
During this difficult time, it's important for us to celebrate, especially for the Children. Our little boy turns 2 in just a few weeks and for him and our 9 and 7 year old his birthday is a huge occasion in our family calendar. Trying to source presents, gift cards and wrap has not been an easy task. Trying to source anything last minute is an even bigger task (we would recommend looking early). He can't read so I can safely tell you that his main present is a sit on Tractor (from Lidl, spotted whilst food shopping) and I am sure we can create a celebration fully tractor themed, with a personalised banner and inflated Tractor Balloon. We will have that all important Birthday morning with the house dressed with Balloons and banners, a couple of presents in the lounge ready for the children to come through. The excitement will build and we will probably have to close our little ones eyes as we walk into the lounge 'no peeking'. Someone will video the reaction as he opens his eyes to the sight of his birthday morning treat. The same pattern this year as any other. Of course, no Birthday party or BBQ for all the extended family but still a special day, a day of celebration.  
Whilst we can't go out and celebrate as normal we can use digital tools such as facebook, zoom and face-time to keep in touch. Of course for some, digital is difficult, but just picking up the phone to say happy birthday, perhaps to someone you wouldn't normally ring might just bring an extra smile on such a special day. The children in our household loved singing Happy birthday to Great Grandma on the phone last Saturday and Great Grandma enjoyed listening (I hope).  
Normal life is planned around celebrations, let's continue to celebrate, send a balloon to that dear friend and maintain that level of normality in life where we can.
If you have something to say, you can normally say it with a balloon!
We wish you all the best in this difficult time and we are happy to support you in helping you celebrate these special occasions in life.